Next Seminar takes place in Berlin:
7-8-9 / 09 / 2018
save the dates, details will follow soon

---
20-21-22 / 04 / 2018


The Berlin Connection @ De Danswerkplaats Amersfoort NL
TANGO SEMINAR:  LIVING COLOURS !
by Daniela & Raimund (Berlin) and Stefan & Marian (NL)

*Program: (still subject to change)
Friday 20 / 04
19:30: doors open
20:00-22:00:  Interactive Lecture: 'Orchestral Playground' by Raimund Schlie
22:00-01:00:  Welcome Milonga, DJ Raimund
Saturday 21 / 04
13:00-17:30:  Seminar Day 1 (including breaks)
21:00- 03:00: Milonga La Roca (Cheek2Cheek), DJ Daniela
Sunday 22 / 04
13:00-17:30:  Seminar Day 2 (including breaks)

*Location:
De Danswerkplaats,
Oude Fabriekstraat 20, 3812 Amersfoort
---
---
8-9-10 / 09 / 2017
The Berlin Connection @ La Berlinesa in Berlin DE
Daniela & Raimund (Berlin), Marian & Stefan (NL)


Lecture Friday
Die Nacht der Tangoorchester – kompakt – mit Raimund
Seminar Saturday
The first day of our seminar opens with the godfather of tango, Francisco Canaro.


Juan D´Arienzo represents the growing of tango and it´s powerful urban flair.


Elegance and style was brought to tango by Carlos Di Sarli,


Seminar Sunday
The second day treats the rule of melody. Julio De Caro combines classical musical training with argentinian street culture.


Aníbal Troilo goes further in freeing the melody,


A very special flavour comes with Osvaldo Pugliese.

Info and registration:
DANIELA & RAIMUND
daniela@dyrtango.de
0049 (0)1723232152
---
---
Pasen 2017
14-15-16-17 / 04 / 2017
The Berlin Connection
Easter Ensueños Project @ De Danswerkplaats Amersfoort
It's Easter weekend! We have more time to submerge into the world of Tango, start dreaming and do what we enjoy most: dancing 😏
Daniela & Raimund (Berlin) and Marian & Stefan (Nijmegen) meet in Amersfoort / The Netherlands for The Easter Ensueños Project!
The four Easter days offer seminars, milongas and lectures on tango and musicality. Even more than in the case of other social dances, the understanding of music is an important condition for an exciting and creative dance. Both parties are required to create the fascinating game together. That is why we deepen our access to music and explore the possibilities to enrich our dance.

Concept
We offer you a unique concept of workshops combined with lectures to get much more background information about the phenomenon "Tango Argentino".
So you will listen to music, you will hear stories about that music and it's protagonists and you will work on the possibilities how to express this music ithrough your very own dance.
The Easter weekend will start with a drop-in class on Friday.
To give you the opportunity to work consistently and without a hurry we organize the classes on Saturday and Sunday in the form of seminars which will stretch over the whole afternoon (with breaks of course).
And on Monday you get the chance to participate on a long audio-visual lecture about Tango Argentino given by Raimund Schlie.
Raimund is an experienced speaker who gives talks about Tango Argentino all over Europe and is well know by his ability to spice up the historical facts with nice little anecdotes. He also makes the relationships between the musicians and orchestra leader transparent which helps enormously understand what in fact was going in during the first decades of the 20th century in Buenos Aires.


But dancing makes hungry!
Food
We're planning to have an Easter Brunch on both Sunday & Monday. Please give us an indication if you plan to participate on the Easter Brunches.
We are very happy to announce that there is also the possibility to have dinner at the brand new restaurant KROAST on 200m distance from De Danswerkplaats. If you're interested in joining us with the Saturday or Sunday dinner you can check the option below. If you prefer to make a reservation with KROAST directly you can follow this link to do so.
Don't wait too long! They are the new hotspot in town and even though they're not open yet they receive a lot of reservations.
---
---
9-10-11 / 09/ 2016 :
The Berlin Connection Workshop Weekend @ La Berlinesa in Berlin
An exciting week end full of music and dancing.
We are looking forward to see you in Berlin in September!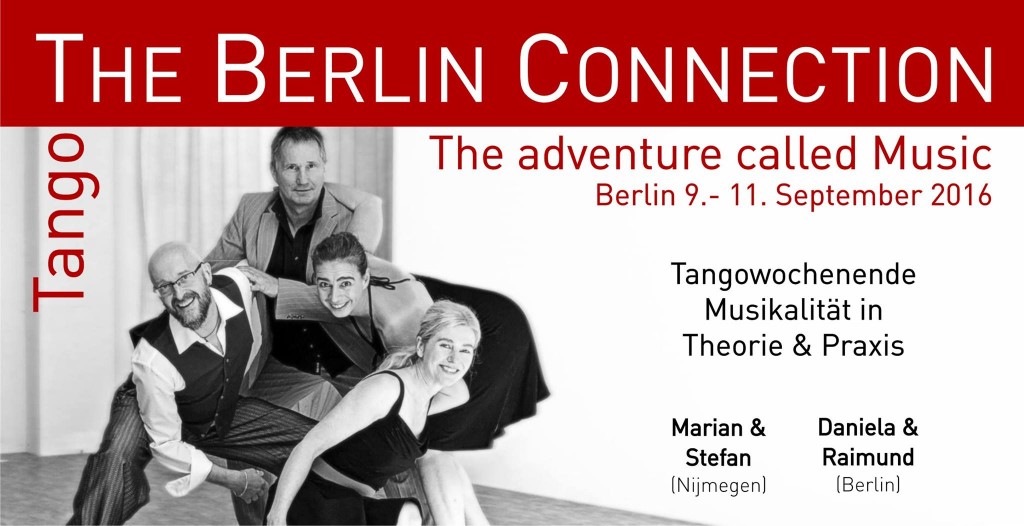 ---
---
15-16-17 / 04 / 2016 :
The Berlin Connection Workshop Weekend @ De Danswerkplaats Amersfoort
Dance and music in Tango are inseparable. With some knowledge we have a better access to the special features of tango and our dance gets more expressive. This weekend offers a special concept: Before each workshop, there is a brief introduction to the topic, then we move on to the practical part.

We are glad to announce that our dear friends from Berlin, the wonderful dancers, teachers, TJ's Daniela Y Raimund are returning to De Danswerkplaats in Amersfoort with a unique concept of lectures & workshops.
——————————————————–
2 Milongas on Friday & Saturday
A package of 9 classes & lectures in total
——————————————————–
* Friday April 15th:
19.30-21.00: Rhythm vs. Melody (D+R & S+M)
21.00-01.00: Warm-up milonga with TJ Daniela
* Saturday April 16th:
13.00-13.30: History of Vals (Lecture by Raimund)
13.30-15.00: Swinging Vals (Workshop by Daniela & Raimund)
15.30-16.00: Lecture: Who's who: De Caro | Canaro (Lecture by Raimund)
16.00-17.30: The hidden jewels of De Caro & Canaro (Workshop by Marian & Stefan)
20.00-04.00: Milonga La Roca (Organized by Karin Venverloo) – TJ Raimund
* Sunday April 17th:
13.00-13.30: Who's who: Troilo | Di Sarli (Lecture by Raimund)
13.30-15.00: The three ages of Troilo & Di Sarli (Workshop by Daniela & Raimund)
15.30-16.00: History of Milonga (Lecture by Raimund)
16.00-17.30: Milonga: Keep it simple (Workshop by Marian & Stefan)
More Info and registration: http://tangoartisan.com/events/the-berlin-connection-de-danswerkplaats-15-17-04-2016/
Our thanks go to Karin Venverloo who offers us the opportunity to work at the fabulous De Danswerkplaats and allows us to build our program around the Milonga La Roca on Saturday April 16th.
Hoping to see many of you to enjoy these precious moments!
Stefan & Marian

---
---
11-13/09/2015 Workshop Weekend In Berlin 
The Berlin Connection, Abenteuer Musik
Daniela & Raimund and Stefan & Marian